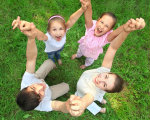 Join Us
There are so many advantages to banking with EvergreenDIRECT Credit Union that our most frequently asked question is, "How can I join?"
The answer is very simple.
Anyone who lives, works, or worships in Washington State, or is part of any school district in Washington State, is eligible to join EvergreenDIRECT Credit Union. Relatives of current members are also eligible to join, regardless of where they live. And once a member, always a member—even if you move.
Join EvergreenDIRECT Today!
We make joining easy. You can call us during regular business hours at 360-943-7676 or toll free at 800-327-4286, or simply visit us at one of our offices or join online now. Once you have become a member, you can take advantage of all the benefits the credit union has to offer and begin experiencing the credit union difference.